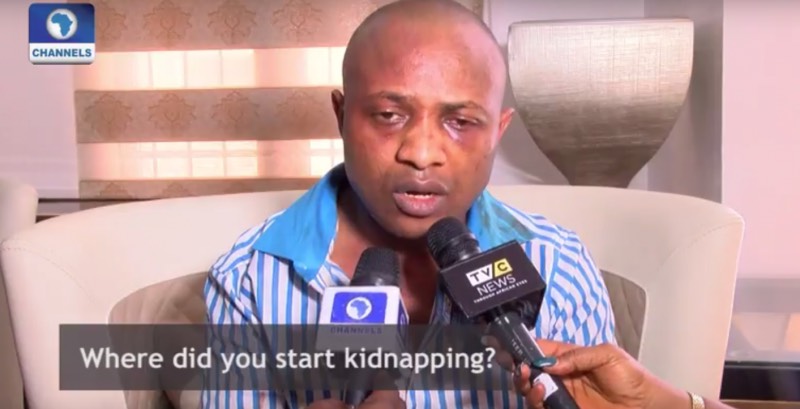 Billionaire
kidnap kingpin Chukwudi Dumeme Onuamadike a.k.a Evans pictured during
an interview after his arrest in June 2017 | Screengrab from Channels TV
Akinwunmi
Ambode, the governor of Lagos State, has signed into law life
imprisonment or death penalty for the offence of kidnapping and forceful
extortion in Lagos State as he signs into law the state kidnapping
prohibition bill, 2016.
The law provides for death penalty for
kidnappers whose victims die in their custody, and life imprisonment for
the act of kidnapping.
The News Agency of Nigeria reports that the Lagos State House of Assembly passed the bill on January 5.
The governor said that the law was enacted to address key issues bordering on security.
He said that kidnapping has become a
major threat to the safety of residents and, therefore, required
decisive action by the government.
"This law imposes a penalty of life imprisonment for kidnapping for ransom.
"The law stipulates that, where a victim dies in the course of kidnapping, the suspect is liable on conviction to death.
"Security is of utmost importance to our
administration, and we are confident that this law will serve as a
deterrent to anybody, who may desire to engage in this wicked act within
the boundaries of Lagos State.
"Our justice system will be required to
execute this law in absolute and make sure that any criminal caught
faces the full wrath of the law," he said.
Based on this, it is very likely, that billionaire kidnapper, Chukwudumeje George Onwuamadike, alias Evans, who was recently arrested by the Nigerian police would be facing a death penalty when his case is taken to trial.